International Pro
International Pro
International development also affects the Finnish economy and labour market. Especially the policies pursued by the European Union have a direct impact on working life in Finland. Trade Union Pro's international activities target specifically the European Union but Pro also pays attention to the global development and aims to strengthen the trade unions in developing countries. Networking with the trade unions of other countries is an important asset to our supervision of interest.
Pro is a member of 6 international federations at Global, European and Nordic level. The federations represent the following fields:
Industry
Public sector
Private service industry
Construction and wood industry
Food industry
Transportation
The main aim of Nordic cooperation is to exchange information on the development of working life in different countries and to find common ground in policymaking on a European scale. The key target of policy influencing and supervision of interest is the European Union. Pro takes active part in the secretariats of international trade union federations as well as in the EU's social dialogue where negotiations with the European employers' organisations take place.
Establishing new networks and being in constant contact with other trade unions from different countries is an important part of Pro's activities and ensures that Pro is at the forefront in the development of European working and business life.
On a company-level Pro is an active member in European Works Councils. Pro's shop stewards and specialists are influencing structural changes and take part in supranational company-level cooperation.
The goal of Pro's global policy influencing is to promote fundamental rights at work and fair free trade.  Pro is a member of The Trade Union Solidarity Centre of Finland SASK and works together with other Finnish unions in development cooperation projects in developing countries. Our aim is to promote fundamental rights at work by strengthening the trade unions, thereby ensuring that global free trade is also fair.
As a member of STTK, Pro also follows the activities of ILO and OECD. In 2021 important global themes include fair corporate taxation, prevention of tax evasion and juridically binding corporate responsibility for human rights.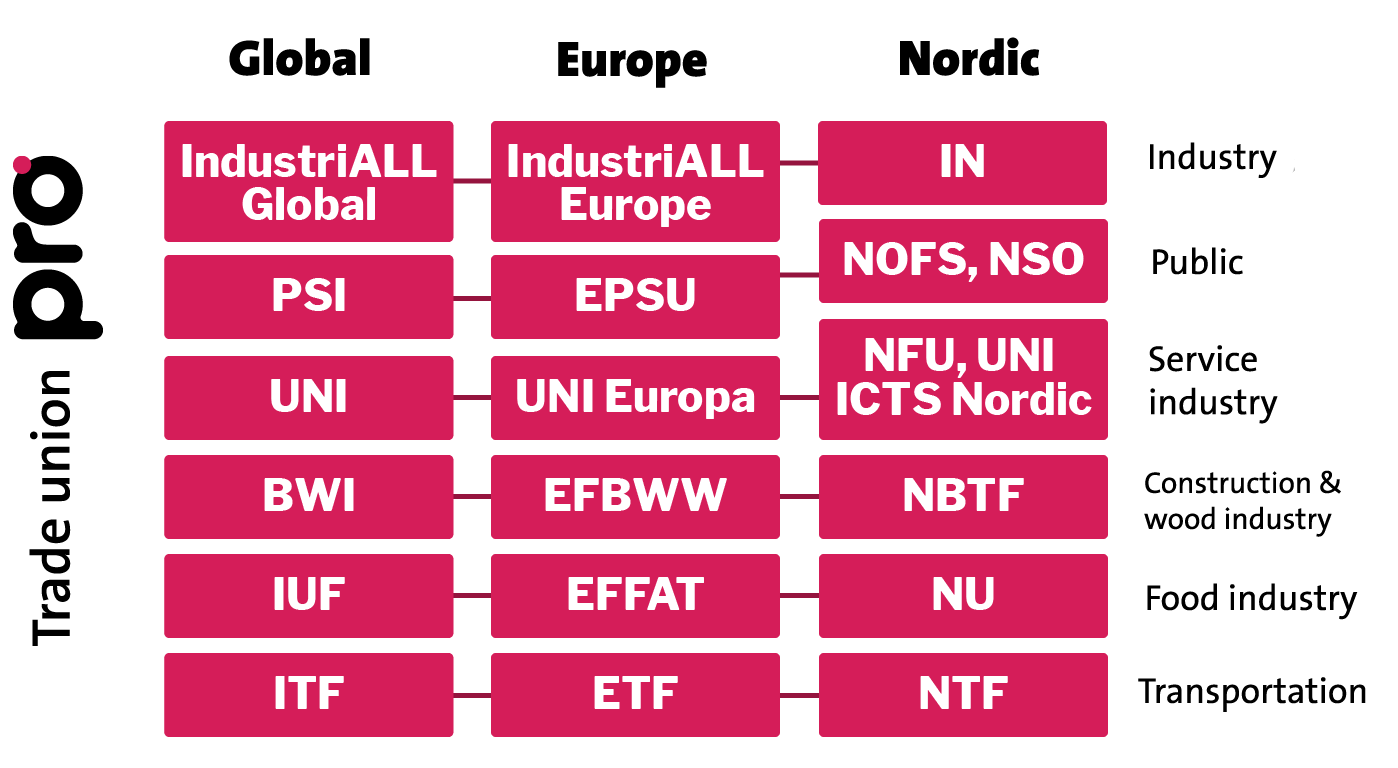 Head of International Affairs, International Affairs
Senior Advisor on International Affairs, International Affairs
Senior Advisor on International Affairs, International Affairs